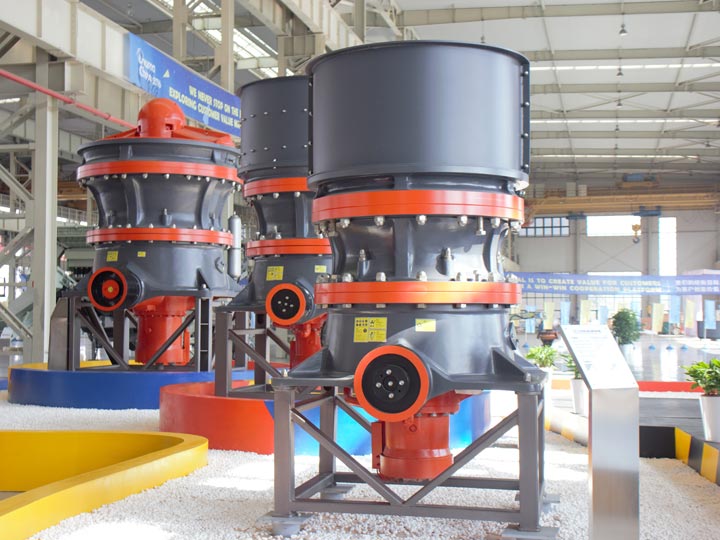 The HST Cone Crusher, short for HST Single Cylinder Hydraulic Cone Crusher, is a high-efficiency crusher machine that utilizes single cylinder hydraulic technology to achieve large production capacity. It is designed for medium and fine crushing of various ores and rocks with different hardness levels, such as limestone, sandstone, granite, iron ore, and copper ore.
One of the main advantages of the HST Cone Crusher is its high productivity, which is achieved through its large crushing ratio and high crushing efficiency. The machine is equipped with a heavy-duty mainframe, a hydraulic tramp release system, and an advanced control system, which all work together to ensure that the crusher operates smoothly and efficiently.
Another feature of the HST Cone Crusher is its high-quality crushing chamber, which is designed to allow the material to be evenly crushed and distributed, ensuring a consistent and uniform final product. The machine also has a large feed opening, which allows it to accept larger material sizes, making it suitable for a variety of applications.
In addition to its high productivity and efficiency, the HST Cone Crusher is also known for its low operating costs. It has a low energy consumption and low maintenance requirements, making it an economical choice for businesses looking to reduce their operating costs.
The HST Cone Crusher is also easy to operate and maintain, with a user-friendly control panel and a hydraulic adjustment system that allows for quick and easy adjustments to the crusher settings. The machine is also equipped with a protective system to prevent damage from foreign objects, such as rocks and debris.
Overall, the HST Cone Crusher is a reliable and high-performing machine that is suitable for a variety of applications, including mining, quarrying, and construction. It is known for its high productivity, efficiency, and low operating costs, making it a popular choice among businesses in various industries.
Technical Data